Last week we showcased loads of amazing local wedding suppliers!  Could they be the perfect pick for your big day?
In case you missed it, here are some highlights from our Instagram takeover, in their own words…
Monday: Hello Baker Girl
Hello Baker Girl puts lots of love and personality into her baking, and loves learning a couple's story before she gets creative with their catering!
Click here to follow her, and read on for her full takeover last week.
I think weddings should be a celebration of love, friends and family and the food should reflect that.  To me, that's relaxed, informal and fun!
If you come to me, you'll probably already know that my style is unique, and that's super important.  You're going to get the best work and have the best relationship by seeking out a caterer who's on the same wavelength as you are.  I make informal cakes and food
that's creative, relaxed – and, most importantly, delicious!
I've worked in the industry for 15 years and I like to have a new creative challenge with each job I do.  Creating custom work for my clients is the best part of the job, and I love to hear about each couple's lives and loves as it helps me to give them the best bespoke
experience.
Tuesday: Piano Bar Events
Piano Bar Events is an amazing mobile cocktail bar available for hire, and it could create the perfect finishing touch for the tipples on your big day!
As well as the delicious cocktails, you have the added bonus of this quirky bar being – you guessed it – a beautiful upright piano.  It'll hit a memorable note with your guests!
Check out their website and full cocktail menu at pianobarevents.co.uk, and scroll to read their takeover in full!  Don't forget to give them a follow if you're interested.
We're a family-run mobile bar company based in Beverley.  We decided to give new life to an old piano, by transforming it into a unique cocktail bar!  So we're a bar, but we're also a centrepiece.
We do everything – hen parties, weddings, cocktail masterclasses, and everything in between.  We can even do night-before events like a whiskey lounge for the groom and all the groomsmen, or a prosecco party for the bride and all the bridesmaids – we're totally
down for that!
Any other ideas you have, we can make work!  We love a challenge, and we often create personalised cocktails for our guessed based on their favourite flowers or memories.
Cocktails are our passion, but we offer a huge range of other things as well including beers, wines.  We've also recently launched our edible cocktail toppers – these could say anything from 'Mr. & Mrs. Richardson 2021' to 'Mr. & Mrs.'
We offer personal consultations.  In the current climate we're not offering these face-to-face, but we are still offering these over Zoom instead.
Wednesday: Paige Lauren Bridal & Occasion
Paige Lauren is a bridal hair stylist based in Hull, but she travels all over Yorkshire providing stunning hairstyles for brides-to-be and their squads.  She's worked with bridal parties of up to 12 at a time, so isn't afraid of a challenge!
Follow Paige Lauren here, and scroll for a snippet of her Instagram takeover, which featured some truly stunning hairstyles.
I'm an experienced bridal stylist from Yorkshire, and I love creating a whole range of looks – from elegant and classic to simplistic and effortless.
I work all over the UK, making brides look and feel beautiful!
Thursday: Key is in the Detail
An events planner and wedding blogger, Key is in the Detail is also currently planning her own wedding – so she's full of brilliant tips and suggestions for your big day!  Click here to follow her Instagram for some amazing wedding inspo.
Read on to catch up on her takeover last week.  She also threw in some fantastic tips for our brides-to-be, so drop us (or her) a message if you missed them!
Weddings and events have been running through our veins for over 10 years now.  It started with work in the events and marketing industry, travelling all over the country to represent global brands.
We've always grabbed any opportunity given to us.  The chance to run events in NYC?  Yeah, we're not turning that one down!  And that's where we found our love of weddings too.  Having witnessed Central Park Ceremonies and Top of the Rock proposals… there
was no going back.
We've since returned to Yorkshire, but with even more love and passion for this exciting and ever-changing industry.  Now we're blogging our way through the seasons and trends!
Weddings are such an exciting time for couples, but there are lots of things to consider.  For some people (like me) planning is the super fun part; for others, it's their worst nightmare.
We're here to guide you with ideas and inspo way beyond your average wedding – and we think of absolutely everything so you don't have to.
We blog, we write, we design and we create.  We turn your Pinterest dreams into wedding day reality!
Friday: Glam by Elizabeth Daisy
This freelance makeup artist specialises in stunning bridal and prom looks.  While she travels around the UK and sometimes abroad to give her brides the perfect glam-up, she's based right here in Yorkshire!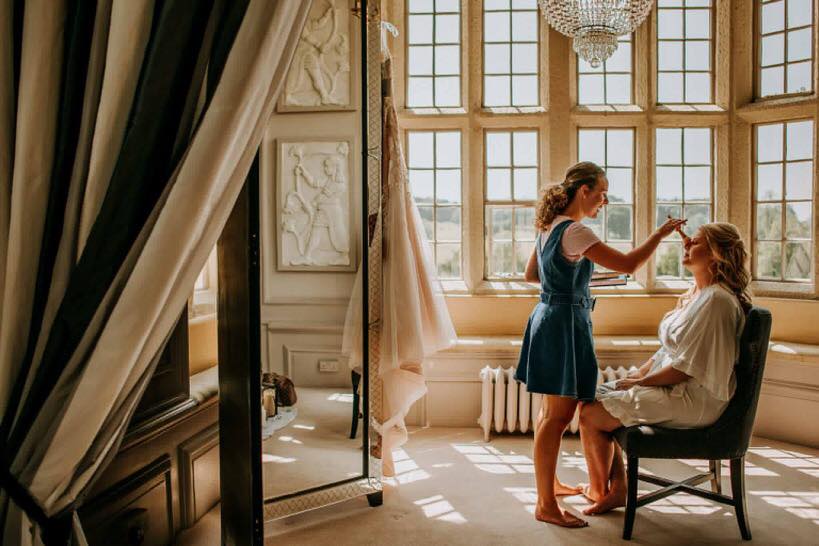 From start to finish, your wedding day should be nothing short of special.
I know I've got an important role to play in your special day – not only making you look sensational but helping you feel sensational!  My job is to pamper you in a calm and relaxed manner so you can take in the excitement of the morning.
I love to meet my bridal clients prior to their big day, and trials provide a fabulous opportunity for us to talk all things wedding and plan your bridal glam look.
Bring along your bridal party and enjoy a chilled glass of prosecco or steaming hot cuppa with a sweet treat, in the comfort of my pretty pink salon, whilst enjoying the excitement of pre-wedding pampering.
I'm lucky enough to be with you on your wedding morning, makeup brushes in hand, bubbly personality and positive attitude in tow.  I'm here to help settle any pre-wedding nerves and blot away any emotional tears.
Saturday: The Little Yorkshire Dance Academy
Joanne is a seasoned professional dance teacher, who specialises in working with children.  Could she help your flower girls create an unforgettably adorable performance for your big day?
Follow the Little Yorkshire Dance Academy to see more of her lovely work.
I'm a fully qualified professional dance teacher with 8 years' international dance teaching experience.
The Little Yorkshire Dance Academy was born last year, and helps children experience their first introduction to dance in our magical and creative performing arts classes, which take place in inspiring venues across Yorkshire.  We currently have live online classes
for children to learn at home!
Have you considered letting your little leading ladies contribute to your big day?
We offer dance classes to gorgeous flower girls, as a really special way for them to get involved in your wedding.
Sunday: Born Boho
We recently had the pleasure of teaming up with Born Boho on one of our own shoots, so we were very excited to feature them in our takeover!
Follow them for some amazing boho wedding inspo, and visit bornboho.co.uk to see their full gorgeous collection available for hire.
We specialise in bohemian-inspired props and decor available to hire for your special day!
From our DIY and self-collection/return option right up to our stress-free 'full hire and style', we have it all – whatever your needs.  Our service always comes with pressure-free advice and as much creative suggestion as you desire.
We source items that aren't readily available anywhere else, and design and make a large selection here onsite – meaning our range is truly unique.
We stock everything from backdrops, portable lighting and Persian rugs to finer details for the tables and chairs.
If you're looking for dreamy decor that will make you the envy of all, get in touch and see what we have to offer!
If you want to find out more about any of these amazing wedding suppliers, they'd love to hear from you!  Give them a follow, get in touch and enquire about how they could provide the perfect finishing touch for your big day.